the future of professional cleaning and hygiene is digital
Innovation plays an important part in the way that we improve the services we provide for our clients. Over the last year we have invested in a number of new technologies that will bring benefits in the future.
Mobile Hot Water​
We invested in the leading FM industry hot-water equipment for our fleet vehicles, providing the best mobile service while staying loyal to our professionalism and eco-friendly company values, plus keeping up with the current and future innovation technology trends in facilities management.

Mario Group's fully equipped vans, complete with built in water tanks, can carry up to 750 litres of water, plus we don't need to use harsh chemicals so there is no risk to surrounding natural areas or habitats and no risk of surface damage.

Our mobile fleet carries industrial hot and cold high-pressure jet washers; perfect for even the most demanding of industrial or commercial cleaning tasks, we can carry out deep cleans, and can support our clients' properties where there is no accessible hot-water.
Battery Operated Equipment​
Health and safety is always at the forefront and focus of our operations, by keeping up with latest facility management technology trends and innovation ideas, by investing in battery operated cleaning equipment that runs solely off lithium ion batteries is always at the forefront and focus of our operations.

Mario Group's fresh approach to facilities management is setting new industry standards in safety by eliminating the dangers of potential tripping hazards that come with power corded equipment as there's no trailing wires causing possible trips and falls. Plus, we have the capability to access any tight workspace.

Nothing speaks louder than the overall cleanliness of your floors and carpet. Mario Group's battery operated vacuums and all-surface floor machine is making it easy, safe, and creating a lasting impression on your employees and visitors from the moment they walk into your facility.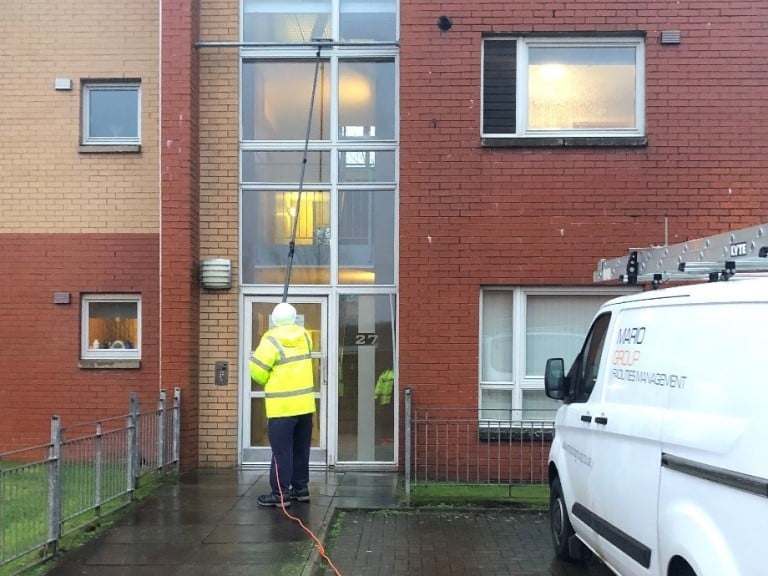 High Level Window Cleaning
Our mobile high reaching, water-fed pole washing system uses less water and no cleaning products, thus reducing our impact on the environment. The system uses purified filtered water to clean the windows, producing a clear and smear free finish. It's a highly innovative system, it changes the molecular structure of water when applied under pressure, producing a clear finish with no chemicals.

Mario Group's water-fed pole system is a telescopic pole fitted with a brush and a means of delivering purified water for window cleaning, allowing us to reach up as high as a 4 story building from the ground without need for traditionally window cleaners that have previously relied upon portable ladders, platforms, scaffolds, bosun's chair and expensive cherry pickers or cradles for access for window cleaning.

The health and safety risk assessment related to the use of water-fed poles removes the risk to work at height, and our cleaning teams can clean the windows viewed from the ground without obstruction. However, there are various other operational risks that you need to consider. This includes the provision of uncluttered access to building facades, and other hazards presented by tripping or slipping on wet surfaces.

All Mario Group water-fed pole facilities teams have undergone necessary training. Possessing health and safety standards, knowledge, experience, and practical skills for the work being undertaken.
Smart Hand Dryers​
In our drive towards increased sustainability and environmental commitments, Mario Group is pleased to offer an innovative and smart solution to one of the major challenges in FM services: waste and power consumption from traditional hand drying solutions. As part of our washroom services, or as a standalone service, we have a partnership with Savortex to provide the industry leading hand dryers.

These smart hand dryers are revolutionary in the sector and are energy efficient up to 66% savings on current equivalent dryers, and with the lowest carbon footprint per dry. Plus, with big-data collection and remote washroom management and resource optimisations, Savortex dryers measure footfall, send real-time usage information directly to facility managers and have resulted in enormous energy, cost savings and emission reductions.

Savortex dryers key facts:


Commercial buildings account for around 33% of waste, and 47% of CO2 emissions per year.
Big-Data and real-time washroom management alerts and remote resource optimisations, by using innovation and improving the way we use resources which interact with our clients' business facilities. FM service providers can provide clients with benefits in huge annual cost savings.
Every year, expensive and environmentally damaging washroom paper towels create 3 million tons of waste, and over 3.5m tons of CO2, costing corporate £10.5 billion globally.
Businesses must reduce overall emissions and waste in line with government policy. By meeting the 80 percent reduction goal by 2050, both existing and new buildings must provide analysis and measurable data to provide full transparency.

Savortex case study:

Royal Bank of Scotland (RBS), for instance, saved £35,000pa on paper towels, 14 tonnes of CO2 emissions, and a return on investment in 11 months.
Technology to support Quality
Quality is paramount to everything that we do at Mario Group. As a leading facilities management company, we have made significant investments in using the latest technology service innovations in facility management to streamline and enhance our performance management. Through our investment in an industry leading Computer Aided Facilities Management (CAFM) system software, which we have named it MarQual.

Mario Group's 5-in-1 system that lets us Plan, Manage, Schedule and Track our Mobile Workforce. We can manage your entire business in one easy-to-use system. By increasing workforce productivity with paperless workflows and smart scheduling that maximises working time, boosts first-time fix rate, helping us deliver amazing quality service. Saving time on manual paperwork and administration, plus Integrated vehicle tracking provides real-time visibility of our progress against the plan, providing a correct view of how to utilise our workforce and assets efficiently.

Mario Group's MarQual system can offer real-time online access to our 24/Helpdesk service. This allows clients to monitor the progress of all support calls made to our Helpdesk against pre-agreed performance metrics. Our fully integrated Customer Relationship Management (CRM) software solution provides a 360 degree view of every account, contact, site and contract. Including bill and invoice right from the system.

The MarQual system also captures and reports client feedback on services allowing us to drive continuous improvement, saving time and cost for all our clients.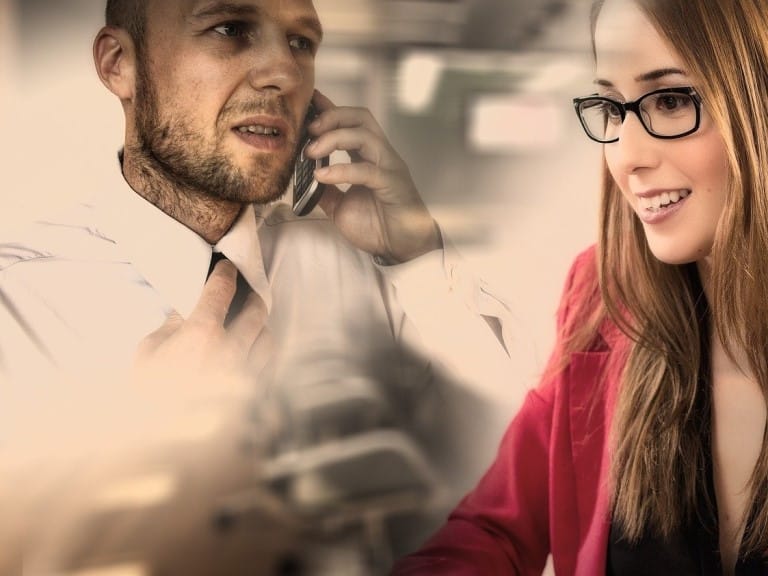 Communication
FM innovation plays an important role within our Helpdesk support team is available through web-based forms, email and telephone 24 hours per day, 365 days a year to ensure that we provide a means of contact that suits the requirements of each client.

We extensively use handheld mobile tablets, which provide our mobile operatives and technicians with an extensive range of information and communication options. It loads the devices with maintenance data, specific to the contracts covered by each technician, and provides them with a complete source of asset information.

These devices are 3G/4G enabled which provides web access, email and telephone communication through a single device which also has additional useful features such as Sat-Nav. Through these devices, our technicians and operatives can provide constant updates on completed maintenance/cleaning tasks, which automatically updates to our MarQual (CAFM) system.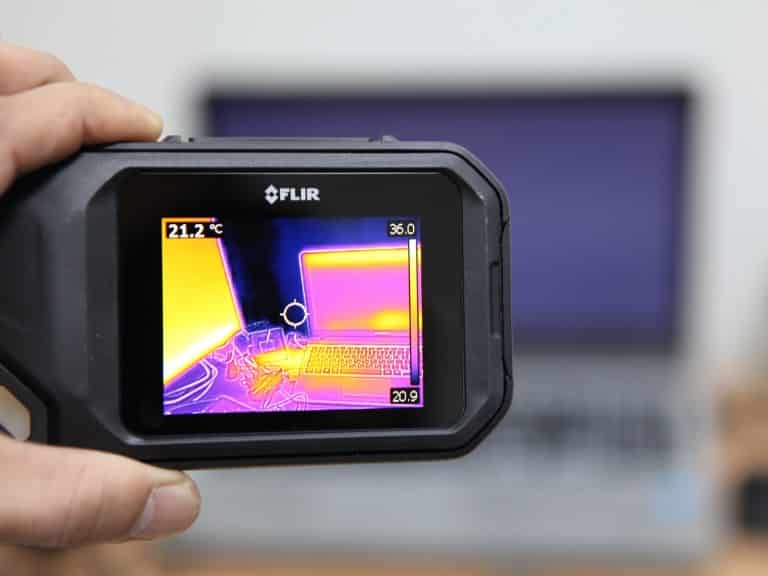 Thermal Imaging Surveys
Mario Group has adopted state-of-the-art thermal imaging cameras that display images and read radiation where the human eye cannot see. Within our electrical preventive maintenance programs thermal imaging cameras can easily see where heat is being lost from a building or specifically where heat is building up, for instance, within an electrical circuit or machinery because of faulty electrical components. We can carry it out while the system is under a full load with no impact to operations.

This innovative technology can detect loose connections, corroded elements, short circuits, overloaded circuits and Busway-joint analysis. This non-invasive technique also allows engineers to gather data from a remote location, away from potentially dangerous situations.

Mario Group's engineers conduct thermal imaging surveys providing invaluable information, data and results that enhance preventative maintenance effectiveness and problem solving/diagnostics. And produce images of that radiation on a visual display for troubleshooting.
Space Utilisation
You and your employees will spend at least 40 hours per week in the office that equates to around 2,000 hours per year. How you organise the space within the four walls can affect not just aesthetic appeal but also comfort and how much work gets done on time.

Redesigning your office layout is about more than just utilising the workplace efficiently. Studies have shown that office layout and other environmental factors can affect employee well-being, financial success, and productivity. A poorly designed office can lead to higher levels of stress, emotional rifts between departments, corporate resentment, employee bickering, mental health issues and anxiety.

Were very conscious that space costs money, Mario Group has embarked on a programme for better space utilisation and more appropriately proportioned office space to support all the facilities needed for the organisation.

Mario Group: starts by surveying and reviewing how you use your current space because you might find that some areas are being used differently than initially intended. Yes, it's about making sure your people, furniture, equipment and resources physically fit into your workplace, but really, it's about so much more than that, we substantially use communications technology backed up by personal contact to ensure the well-being of staff and visitors.

Office space design planning is essentially fitting an organisational structure into a building structure. To achieve this, Mario Group provides a detailed survey to help the client determine how much space a certain number of people need and how many people the office can space hold.

Mario Group's, space planning procedures, involve a detailed study of how to use the spaces effectively. The office space brief is a statement of intent developed during the design process and forms the basis for initial space planning. Some of the design technical planning tools we use include space estimations, schedules of accommodation, matrices, bubble & flow diagrams, traffic circulation, zonal spacing, block plans but not limited too. Ensuring that the organisation has a distributed workplace strategy and flexibility for growth in the future.
our team of experts are here for you
For more information on how Mario Group's technologies and FM innovation can help support your business, get in touch today.
For the maintenance of your facility, recent technology advancements have made great strides. With that, it is important to monitor the emerging technologies that will make the biggest impact in facility operations